Mgnesium Oxide Board Production Line
---
The MgO board is a great fireproof building materials and panels used in different areas, it has excellent fireproof performance. This production line is energy efficient to produce the MgO board, which could reduce the waste and capture carbon dioxide during production. Besides that, the boards' fungus resistance means they attract no rot, mildew, allergens, or mold. It's 20 to 30 percent lighter than other cement-based boards. It becomes more and more popular.
---
Introduction

Yurui team has specialized in the MgO board manufacturing for over 23 years and well captured the technology of producing the MgO boards. With its advantages of the technology and production of machines, we are also a professional solution provider of the MgO board machines. (Know more about the MgO board)
Standard Configured MgO Board Production Line
This production line is standard confirgured which could produce the standard non-woven fabric board, the most popular board in the market.
The standard non-woven fabric board, with a gloss surface side and rough backside.
| | |
| --- | --- |
| Finished Product | Standard board |
| Product Specification | (2440-3050) * (1220) * (3-20)mm |
| Designed Capacity | 250-300 Pcs/hour (4*8*3-12mm) |
| Workshop Requirements | Building area: 8,000 square meters (including raw material area, production area, curing area, finished product area). Plant height ≥ 6 meters, Mixing area height ≥ 9.5 meters |
| Design transformer installed capacity | 315 KVA |
| Designed production water consumption | 40 Ton/ Shift |
| Design compressed air consumption | 8 cbm/min |
| Natural gas consumption | 400 cbm/day (based on 0°C, winter season) |
| Design and production labours | around 25/shift (Aslo should based on to production process requirements) |
| Total Cost | (Excluding factory buildings, infrastructure, freight, working capital, transformers, lighting and power lines, etc.) |

Production Process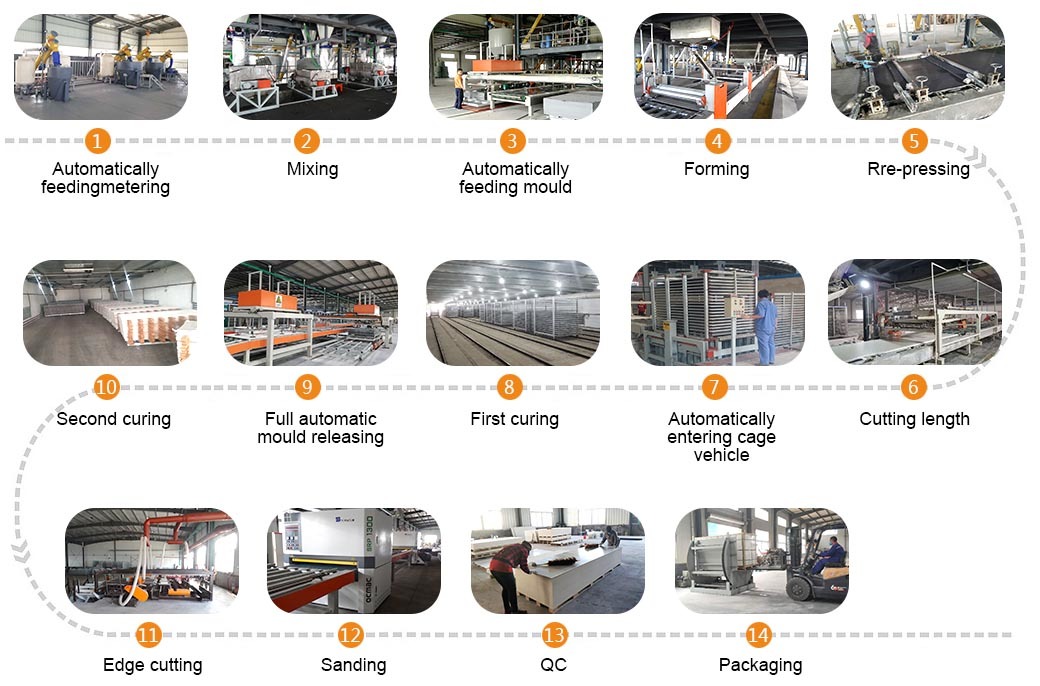 Machine video
Our Advantages of Our factory
1. Professional engineering team of MgO Board Machine design, installation and maintenance
2. The first supplier of MGO board production line
3. Highest automation with MgO board production line solution in the market.
4. Full technology support on producing different types of MgO board.
5. Offering the most advanced formulation of high quality MgO board, keeping upgrading the technology.
6. We have both rich experiences in producing the MgO board and production lines, so that our machine design benefits from the real MgO board production in factory.
7. Professional service team for the whole project process: evaluation of project, manufacture, exporting, shipping, installation & commissioning and the long term after sales service supports.
Raw Materials (Typical)

PROVIDE SOLUTIONS FOR YOUR INDUSTRY