Fiber Cement Board Production Line
---
Our machine line solution is a new type of production solution in the fiber cement board. It is a type of flow-roll forming process, with no need for high temperature and a high-pressure curing process. Traditional production lines use autoclave which needs a big area and energy, and the cost is also higher. Our production line doesn't need it. The production speed is about 300pcs/hours based on 10mmx1220x2440mm.
---
Typical Process of Fiber Cement Board Production Line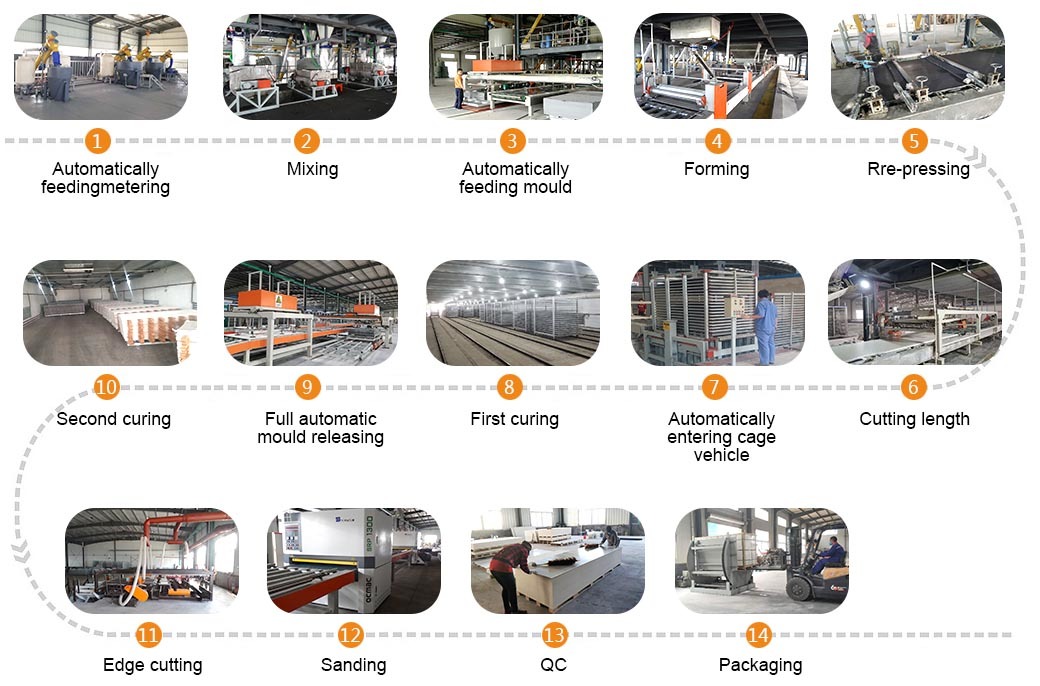 Finished product
Fiber cement board mainly uses the cement as base material and fiberglass mesh as the main reinforce material, it is a new type of technology to produce cement board and a new structure board.
Extensive Applications
Fiber cement board is used in various domestic power generation industry, fire and flame retardant for cable projects in factories, chemical enterprises and other places with intensive electricity costs. It is also the best fire retardant material for interior decoration fire retardant projects in large shopping malls, hotels, guesthouses, document halls, closed clothing markets, light industry markets, theaters and other public places.
a) Light Weight
Density: Traditional technology-produced fiber cement board is 1.2 - 1.6g/m3, and our board is 1.0-1.7g/m3. Compared with the traditional board, our board could be lightweight. For example, on a 10mm 1220x2440mm board, the panel weight could be 10kg lighter. That means saving more labor costs during production and transportation, which also means the delivery could be longer based on the same situation.

b) Eco-friendly & Customized
This new production technology uses the fiberglass mesh as the reinforced material instead of the pulp fiber, so that is more environmentally friendly and easy to produce. At the same time, you could adjust different layers of the mesh to achieve different strengths.

c) Easier Process & Cost Saving
The board produced by our machine are easier to cut, install and save the installation costs.

d) Various Options
With our machine, you could have more options to choose various raw materials for the fiber cement board production than using the traditional production line. Because the traditional production line could only use the pulp as raw material, which is an energy-intensive raw material, so that many governments now do not support the production and use of pulp.

Raw Materials (Typical)

Advantages of Our Factory
1. Professional Fiber Cement Board Machine engineering team for Online & On-site technical supports.
2. Highest automation fiber cement board production line solution in the market.
3. Full technology support for producing different types of fiber cement boards.
4. Most advanced fomulation of high-quality fiber cement board, keep upgrading the technology.
5. We have both rich experiences in producing the fiber cement board and the machines, so our machine design benefits from real production running.
6. Professional service team for the whole project process, from evaluation of the project to manufacturing, exporting and shipping, on-site installation & commissioning, to the long term after sales service.
PROVIDE SOLUTIONS FOR YOUR INDUSTRY