Asia FUJI Elevator (Linyi) Co., Ltd. is a joint-stock enterprise that integrates the research and development, design, production, sales and installation and maintenance of various elevators, located in Pingyi County, Linyi City, Shandong Province, which has a total area of 200,000 square meters and a total investment of 1.3 billion RMB, and it is a key investment attraction of Linyi City in 2005..
At present, the company has obtained honors like the "National Quality Inspection Stable and Qualified Products", "National Quality and Honest Outstanding Enterprise" honor certificate and "High-tech Enterprise" and has won 15 patents in the elevator industry.In 2019, the company's leadership pioneered the company's development direction as a "one-stop product service provider of high-end intelligent transportation equipment", marking that Asia Fuji Elevator officially entered the field of intelligent three-dimensional garages and intelligent warehousing to solve the "parking difficulties".
The test tower, which integrates elevator and stereo garage inspection and testing, is 159 meters high,speed up to 10m / s.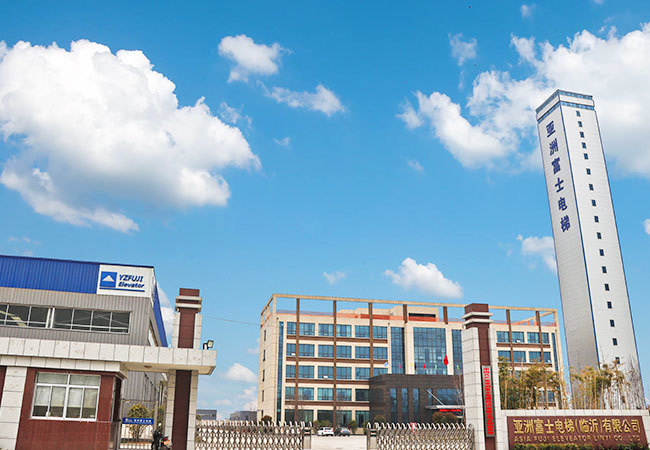 With the development of New-normal economy, Asia Fuji Elevator is aiming to develop ourselves in the direction of high-end, intelligent and IoT( Internet of Things), facilitate the upgrades of elevators and intelligent three-dimensional garages, drive the domestic manufacturing industry to the frontiers, and quickly achieve the great significant goal of "start from China, through the Asia, and towards the world"! In the next 5-10 years, Asia FUJI Elevator will take responsibility and respond to the national policy-"One Belt and One Road", take the Shandong Province as our base, Beijing, Shanghai, Jinan, Shenzhen and Hunan as the windows, and then set up branch offices overseas and establish production bases in Southeast Asia, gradually bring our products to the world and achieve rapid development ourselves.